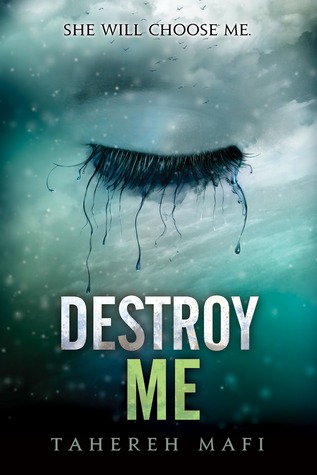 Destroy Me
Shatter Me #1.5
Author: Tahereh Mafi
Genre: YA, Science-Fiction, Romance
Published Date: October 2nd 2012 by Harper
Format: e-book
Source: Bought
Rating:
Synopsis
Perfect for the fans of Shatter Me who are desperately awaiting the release of Unravel Me, this novella-length digital original will bridge the gap between these two novels from the perspective of the villain we all love to hate, Warner, the ruthless leader of Sector 45.

In Tahereh Mafi's Shatter Me, Juliette escaped from The Reestablishment by seducing Warner—and then putting a bullet in his shoulder. But as she'll learn in Destroy Me, Warner is not that easy to get rid of. . .

Back at the base and recovering from his near-fatal wound, Warner must do everything in his power to keep his soldiers in check and suppress any mention of a rebellion in the sector. Still as obsessed with Juliette as ever, his first priority is to find her, bring her back, and dispose of Adam and Kenji, the two traitors who helped her escape. But when Warner's father, The Supreme Commander of The Reestablishment, arrives to correct his son's mistakes, it's clear that he has much different plans for Juliette. Plans Warner simply cannot allow.

Set after Shatter Me and before its forthcoming sequel, Unravel Me, Destroy Me is a novella told from the perspective of Warner, the ruthless leader of Sector 45.
My Thoughts
Ahhhhhh OMGOODNESS!!!!!!!! I can't believe it I have fallen in Love Love Love Love I have now found another book boyfriend in Warner is it possible to fall in love with two characters in the same book Eeeeek I really loved and enjoyed reading Destroy Me and learning more about Warner I totally understand him more now why he is the way he is because of his sick evil cold hearted monster of his father Ugh I so despise Warner dad so much for what he put Warner through I also really enjoyed reading the excerpt from Warner's files it was really cool to learn more about Juliett, Adam, Kenji and Warner now I can't wait to read Unravel Me next!
Purchase Link
About The Author